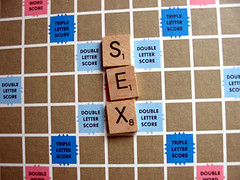 The Eight Lies of Pornography
Where did you learn about sex? Who told you how it works, what to do, and what the opposite sex wants? In our workshops we often ask where participants learned about sex when they were growing up. Very few people recall learning anything substantive about sex from their parents, church, or school. Most people say they learned about sex from their friends and from popular culture (movies, TV, and music). But after a little prodding, a different picture comes out. Most of the people we work with learned about sex from pornography.
That's scary, because pornography doesn't deal in truth. Pornography is not made to educate, but to sell. Pornography deals in fantasy, and will offer whatever will attract and hold the audience. Porn thrives on lies — lies about sex, women, marriage and much else. I recently came across an article by Gene McConnell that – among other things – gave a list of some of those lies. While I appreciate the article, and the list generated there, I have adapted and changed it a bit, based on my own observations and experience working with (male) addicts. I realize that more and more women are users of porn … so forgive me if the language is more male-oriented. This is just based on the clients I work with. I offer these lies that pornography taught me.
Lie #1 – Women are bodies to possess and enjoy, not people to relate to
The women in Playboy magazine are called "bunnies," making them cute little animals or "playmates," making them a toy. Penthouse magazine calls them "pets." Porn often refers to women as animals, playthings, or body parts. Some pornography shows only the body or the genitals and doesn't show the face at all. The idea that women are real human beings with thoughts and emotions is played down. Porn views sex as a game and in a game, you have to "win," "conquer," or "score." Men who buy into this view like to talk about "scoring" with women. Women then become objects to use in this game.
Lie #2 – A woman's value depends on the attractiveness of her body
If women are treated as objects and not persons, then it only follows logically that their value would be based on the appearance of their bodies. This is the case in our society in general, but especially in porn. (See a recent post which talks about the negative effects of the sexualization of girls for more on this.) Less attractive women are ridiculed in porn. They are called dogs, pigs or worse, simply because they don't fit into porn's criteria of the "perfect" woman. Porn doesn't care about a woman's mind or personality, only her body.
Lie #3 – "No" doesn't really mean no
"When she says no, she means yes" is a typical porn scenario. Women are shown being raped, fighting and kicking at first, and then starting to like it. Porn teaches men to be sexually excited by forcing themselves on women, and in some cases hurting and abusing them. This gives rise to the policy debate about the link between pornography and sex crimes, which is not the area of interest for this site. But at the very least, porn confuses and desensitizes its consumers about how to read the signals their partners are sending.
Lie #4 – It's okay to degrade women
Porn often features an undisguised hatred towards the very women that it seems to idolize. Porn is often full of hate speech against women. Women are shown being tortured and humiliated in hundreds of ways and often they are portrayed as liking this. Does this kind of treatment show any respect for women? Any love? Or is it hatred and contempt that porn is promoting toward women? Even porn that is not violent or overtly abusive often degrades women in subtle and not-so-subtle overt ways.
Lie #5 – It's okay to sexualize – and even have sex with – children
Child porn is a much-publicized threat to the safety of kids around the world, and continues to be a fast-growing niche in the porn industry. One of the biggest sellers in legal pornography is imitation "child" porn. The women are made-up to look like little girls by wearing pony tails, little girl shoes, holding a teddy bear. The message of the pictures and cartoons is that adults having sex with kids is normal. This sets the porn user up to see children in a sexual way.
Lie #6 – Porn and prostitution are glamorous
Porn paints an exciting picture of prostitution and porn modeling. In reality, many of the women portrayed in pornographic material are runaway girls trapped in a life of slavery. Many have been sexually abused as children. Some of them are infected with sexually transmitted diseases. Many take drugs just to cope.
Lie #7 – Women are instantly turned on and always demonstrative
Mainstream porn presents an idealized, fantasy view of sex, where partners move quickly into sexual activity, ignoring not only a relational connection, but also dispensing with foreplay. Pornography glorifies instant gratification, and often ignores the basic biology that requires women to build toward sexual response over a longer span of time than men. Further, porn usually ignores the give and take that often is part of sex in real life. Porn trains its consumers to have unrealistic expectations of their partners.
Lie #8 – Sexual behavior doesn't have consequences
This is a more subtle, but pervasive message that gets communicated in porn. People engage in high-risk behaviors with no consequences. Porn doesn't show the aftermath of sexual promiscuity: broken relationships, tears, loneliness, sexually-transmitted diseases, pregnancy, and more.
I'm aware that this is a partial list. If you have any others to add, let me know.